AAUW West Contra Costa Branch in Northern California represents communities from Berkeley to Richmond and beyond. It is a dynamic group of intellectually curious women with a common interest. We have been working to break through barriers for women and girls since 1949. We are not finished!
---
Upcoming Programs 

American Association of University Woman
West Contra Costa Branch
The Public is invited to hear Dr. Ezinne Achinivu
at the AAUW – WCC meeting
April 27 at 10 am
780 Ashbury Street, El Cerrito, CA 94530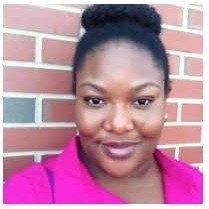 Dr. Ezinne Achinivu is an American Fellowship recipient who received a publication grant from the AAUW for the 2018-19 academic year.
She received her bachelor's degree from the University of Maryland and her doctorate in chemical engineering from North Carolina State University. After obtaining her doctorate, she was awarded a Fulbright Scholarship and went to Paris to do research. Then she was awarded one of the 250 Grants and Scholarships by AAUW for this academic year and is now in the Bay Area.
She is dedicated to improving engineering education (and STEM fields) amongst students of all types and especially amongst student groups that have been historically underrepresented.  She will share with us her experiences and expertise in her personal journey to success..
Come… and bring a friend!
Annual Spring Luncheon Saturday, May 18 at 11:30 at La Strada Italian Restaurant. There will be Installation of new officers at that time.
---
Our Mission — AAUW advances equity for women and girls through advocacy, education, philanthropy, and research.
Our Promise — By joining AAUW, you will be part of a community that breaks through educational and economic barriers to give women and girls a fair chance.
Our members gain:
Friendships with educated women of diverse backgrounds and experiences.
In addition to monthly general meetings, access to interests groups including book club, bridge, global events, and lunch bunch.
Intellectual development at monthly meetings through education on current issues that impact women and girls.
As a branch we support:
Scholarships that send at least eight seventh grade girls each summer to Tech Trek, a science and math camp at Sonoma State University.
A $1,500 scholarship to advance the education of one talented female student from Contra Costa College in honor of Mary Ellen Bales.
Join the fight to advance equity for women and girls and make new friends along the way. Become a member today.