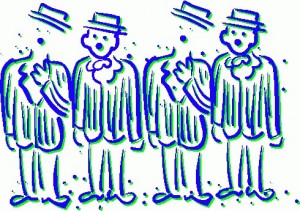 PLEASE JOIN US FOR OUR
ANNUAL HOLIDAY PARTY!
Saturday, December 13, 2:00-4:00 p.m.
At the home of Betty Ann and Ray Barnett
1452 Sandpiper Spit, Richmond (510-233-7580)
Please join us at the Barnetts' beautiful Richmond home for our annual celebration of the holiday season. We always have a great time on this special festive occasion.
We need people to come early to help set up, and also to stay late to help clean up. Two people have already volunteered too come early, but we can use more help.
Please remember to bring a holiday goodie – a small plate of cookies or tea sandwiches – sweet or savory — to share. Bring what you wish, but please remember that this event is not a lunch. Our hostess will provide coffee and tea. Some baggies should be available if people wish to bring home any extra treats. Please put this special gathering on your calendar now.
Please also bring a children's book (age appropriate for first and second graders) or a donation of at least $5.00 that will be used to buy children's books. We are collecting books and donations to support two programs: Read Aloud (K-3), and the Grant Elementary School Birthday Book Project for first and second grade students. Your generosity in the past has been wonderful, and these worthwhile programs help the children develop their ability to read and their interest in books.
Musical entertainment will be provided by a popular barbershop quartet. We strongly urge branch members to invite their friends, neighbors, and prospective members to this joyous celebration. We also encourage new members to join at this time and continuing members to renew.
Directions: To reach the house, go west on Cutting Boulevard or take the 580 Freeway going toward Point Richmond, turn or exit onto Canal going south (towards the Bay). Drive seven tenths of a mile until the road narrows. Turn right on Seacliff and go up and over the hill and down to a stop sign. Turn left at the stop sign onto Sandpiper Spit and go almost to the end of the street. The house is on the Bay side of the street. Please park on the north side of the street, as there is no parking on the south (Bay) side of the street. Carpooling is strongly encouraged, as parking is limited.